Rice is one of the most important food crops of India in term of area, production, consumer preference and export. India has the largest harvested area in the world and produces over 130 Million MT of paddy every year. India is the second largest producer and consumer of rice in the world.
Basmati Rice:-
Basmati rice is the highly aromatic rice and it is nature's gift to the Indian sub-continent and thus it is India's gift to the entire world. At the foot of the Himalayan mountain ranges, farmers in the northern parts of the country have been growing this scented rice for many centuries. The tropical climate and soil present at the foothills of the Himalayas is ideal for Basmati rice cultivation. All over the world, Basmati from India is a perfect treat for the connoisseurs of opulent food.
Basmati is typically characterized by its superfine kernels, superb aroma, great taste, silky texture, delicate curvature and linear kernel elongation. The aroma of Basmati is unique and imparts its novel characteristic that is unmatched by any other grain elsewhere in the world.
We cater to all varieties – Traditional Basmati, Pusa Basmati, 1121 Basmati and in all forms - Brown, Milled Raw, Steamed, Par-boiled / Sella - White /Golden.
Other Rice Varieties available for Exports are:-
- IR 36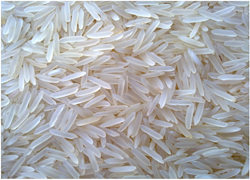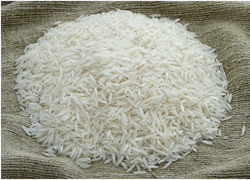 Specification for Rice
Rice
Date of Notification
Name of the Institutions
Basmati 370
361 – 30.06.1973
786 – 02.02.1976
Rice farm Kalashah Kaku (now in Pakistan)
Type-3 (Dehraduni Basmati rice)
13 19.12. 1978
Rice Research Station, Nagina
Taraori Basmati HBC-19 or
Karnal Local)
1 (E) 01.01.1996
Rice Research Station, (CCS- HAU), Kaul
Basmati 217
4045 24.09.1969
Punjab Agriculture University, Ludhiana (Punjab)
Ranbir Basmati
1 (E) 01.01.1996
Sher-e-Kashmir University, Regional Agriculture Station, R.S. Pura, Jammu
Basmati 386
647 (E) 09.09.1997
Rice Research Station, Kapurthala, Punjab Agriculture University, Punjab
Punjab Basmati –1
596 (E) – 13.04.1984
Punjab Agriculture University, Ludhiana, Punjab
Pusa Basmati –1 IET 10364
915 (E)– 06.11.1989
IARI, New Delhi
Kasturi IET 8580
Directorate of Rice Research, Hyderabad, AP
Haryana Basmati– 1 IET – 10367
793 (E) – 22.11.1991
Rice Research Station, CCS-HAU, Kaul, Haryana
Mahi Sugandha IET – 12601
408 (E) – 04.05.1995
Rice Research Station, RAU, Banswara, Rajasthan
Pusa Basmati– 1121 IET – 18004
1566 (E) – 5.11.2005 2547(E) 29.10.2008
IARI, New Delhi
Improved Pusa Basmati – 1 IET – 18990
1178(E)–20.07.2007
IARI, New Delhi
Vallabh Basmati-22 IET 19492
2187(E) 27.08.2009
MAUB-162
Pusa Basmati – 6 IET – 18005
733(E) – 01.04.2010
IARI, New Delhi
CSR 30
S.O.2126(E)10.9.2012
Ministry of Agriculture